I just finished the five book series Wicked by Nancy Holder and Debbie Viguie - only took me since Feb lol - Its the New York Times Bestsellers list each time it came out!

The first is Wicked: Witch & Curse - It's a double book - about a million pages long but captivating (they all are)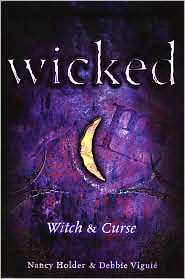 Author Notes:
Holly Cathers's world shatters when her parents are killed in a terrible accident. Wrenched from her home in San Francisco, she is sent to Seattle to live with her relatives, Aunt Marie-Claire and her twin cousins, Amanda and Nicole.

In her new home, Holly's sorrow and grief soon give way to bewilderment at the strange incidents going on around her. Such as how any wish she whispers to her cat seems to come true. Or the way a friend is injured after a freak attack from a vicious falcon. And there's the undeniable, magnetic attraction to a boy Holly barely knows.

Holly, Amanda, and Nicole are about to be launched into a dark legacy of witches, secrets, and alliances, where ancient magics yield dangerous results. The girls will assume their roles in an intergenerational feud beyond their wildest imaginations...and in doing so, will attempt to fulfill their shared destiny.

My Notes:
Who doesn't wish they could find out when they are a teen that they belong to a long line of witches... but the ugliness (a curse) that comes with it wasn't something I'd wish for. Teen romance, sibling rivalry, love quadrangles within timelines/ancestors (got you curious?) - its ok for a teen to read. I couldn't put the book down.

The second book - Wicked 2: Legacy & Spellbound - another double book - that continues directly where the last one left off with very little overlap (love that it doesn't rehash too much and you can jump right in)


Author Notes:
Holly Cathers is not the same person she was almost a year and a half ago. After discovering her connection to an ancient legacy of witches, Holly has accepted her destiny as a descendant of the House of Cahors. She is determined to end an intergenerational feud that has plagued her family for centuries.
Holly will have to overcome unworldly obstacles as she battles to protect her loved ones -- including Jer, a member of the rival House of Deveraux and her one true love. A war of magical proportions is being waged, and Holly is at the center of it all.
Lives will be lost, and sacrifices will have to be made...
My Notes:
Hmm not so much a teen series anymore with demonic possession, killing sprees between the rivalries... but it kept me moving and reading. I love the insanity of it all and how the authors were able to keep the complicated things happening straight in my head - the characters move around alot, so many things happening at once...
The last book
Wicked - Resurrection
- normal book size 401 pages - its the finally of the series
Author Notes:
A threat more powerful and frightening than anything they have faced before looms over the Cahors witches as both the Devereux and Cahors family lines face extinction, and Cahors family secrets are revealed.
Holly, Amanda, Nicole, and the rest of the Cahor witches face, in this third chapter in the Wicked series, their biggest threat yet--one far more devastating than some all-in-the-family feud, or even than the multi-generational tension between the Cahor clan and the Deveraux witches. All the witches must join together in order to stay alive.
My Notes

:
Ughhh it doesn't really leaving you hanging but wanting MORE - another book... I loved the series! Ok so you get want you want in the end but not the way you'd think it happens - what did you think I'd tell ya?? lol There's a baby, More fighting, possessions, truths come out and more Cathers witches are found ;)
Now the big surprise came back in October 2009 when they released that
- DreamWorks Studios Acquires Rights to Young Adult Book Series "Wicked"
- This would be the coolest to see in the movies!!

Overall - the series was good, not all teen (definitely not preteen) readable, captivating, tons of twist-n-turns and drama. No explicit sex - except the tension of course between the teens.