I just finished Dance with a Vampire, The Coffin Club, Royal Blood and Love Bites. They are all short books (150 pages) and I will say set for preteen vampire romance. I could definitely let Amber read these with no worries.

It's funny though - the main character Raven isn't the one growing up, its her boyfriend Alexander that seems to grow up more and more through each book. She does some, realizing more about her boyfriends vampire night life and why its difficult for him to 'turn' her.

I gotta love how she's so on the moment, no hesitation, out to have fun and just does what she wants without thinking of who else is watching or what they are going to say.

Alexander, conservative, silent at times - he's learning to become more like Raven, she's rubbing off a little. I think he's rubbing off on her too.

I do wish they'd hurry with the next book - I want to know what happens. She ends it at a high moment... ughhh!!!




Dance with a Vampire - Author Notes:

There's a new vampire in town. His name is Valentine Maxwell. Goth-girl Raven knows this latest intruder can only mean trouble—he's the younger sibling of two vampires she fought to drive out of Dullsville. But when her brother, Billy, befriends this dangerous tween night prowler, the stakes are suddenly higher. Though torn by the excitement of every teen girl's fantasy—attending the prom with her boyfriend—Raven must do everything she can to protect Billy.

Valentine's appearance may pose even further threats. Could he somehow know Raven's innermost feelings about becoming immortal for her true love, Alexander? The far-from-ordinary romance of these two teen outsiders takes another surprise-filled spin in the fourth book of Ellen Schreiber's applauded Vampire Kisses series.



Coffin Club - Author Notes:

When Raven returns to Hipsterville's cryptic goth haunt, the Coffin Club, she discovers a secret door to another disco-"The Dungeon"-that is inhabited by vampires only. Raven learns that the nefarious Jagger Maxwell has welcomed the vampire clan into the club and has gained the popularity he missed in Romania. He is poised to take over Hipsterville, until a new vampire named Phoenix challenges him for control of the Coffin Club. Unbeknownst to Alexander, Raven becomes caught up in the clash, entranced by the hypnotic vampire culture of the Underworld. A surprising twist at the end reveals that Phoenix is really Alexander! Alexander frequented the club in disguise to try to thwart Jagger's plans to expose the club's vampire clientele to the town.




Royal Blood - Author Notes:

Summer break is over, and Raven is hardly eager to be returning to Dullsville High. Not only does school mean daily interaction with preppy pest Trevor Mitchell, but her sleep-filled days and romantic nights with her immortal boyfriend, Alexander, must come to an end.
Plus the shock of morning classes isn't the only change in store. An unexpected letter turns up at Alexander's mansion-announcing his parents will be coming to town. And once they arrive, it seems just about everyone has had a sighting of the macabre couple except Raven.

What could be delaying Alexander from introducing Raven to them? His strange distance leads Raven to think he must be hiding something about his parents' homecoming.

When Raven is finally invited to the most thrilling and fear- provoking dinner party of her life, the next turn of events could transform her entire future with Alexander. The sixth book in Ellen Schreiber's juicy Vampire Kisses series takes an unusual twist in the continuing romance of Raven and Alexander.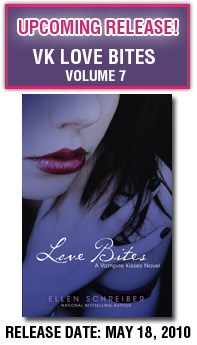 Loves Bites - Author Notes:

As a mortal girl dating a vampire, Raven knows that love isn't always easy. Now that Alexander's parents have returned to Romania, Raven and her dreamy vampire boyfriend are happy to resume their cryptic romance.

But soon another visitor comes knocking: Sebastian, Alexander's best friend, arrives for a stay at the mansion. At first Raven is wary, and then thrilled – this is the perfect chance to learn more about her darkly handsome boyfriend and his past. Raven has been wondering whether Alexander will ever bite her and make their love immortal, and Sebastian could be her guide to the love habits of Alexander and his kind. But when Sebastian falls for a particular Dullsvillian, will another mortal beat Raven to the bite?

With suspense, danger, and a fabulous vampire party, this seventh book in the bestselling Vampire Kisses series continues the exciting nocturnal romance of Raven and Alexander.